Skip to main content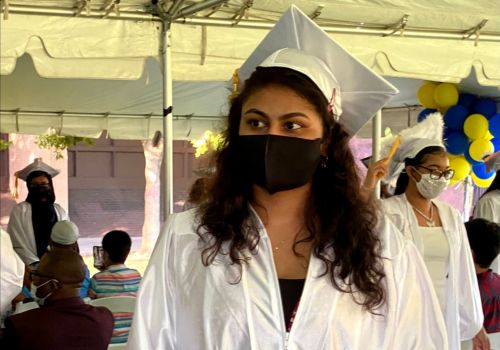 I started thinking and planning for college very early. To me, attending college means pursuing upward mobility.

I grew up with South Asian parents who are very strict about education. Like most immigrant parents, if I'm not speaking too generally, my parents believe you need a degree to prosper here in America. In Pakistan, my dad went to law school, but the degree didn't transfer to America, so he found a different career. My mom studied social work in Pakistan, then when she came here, she decided to get an associate's degree in medical assisting.
I would dream about my mom and I leaving the city together so that I could attend an out-of-state school. I attended a Young Women's Leadership School that prioritized college readiness, so when I started applying for college, I had a lot of support from my high school.
The summer before my sophomore year in college was the first time I had to do the financial aid applications on my own, and I had no idea what I was doing. I was worried until I received the text from one of the uAspire advisors. We were able to book a Zoom meeting, and she guided me through the application and made sure I understood how to do everything so I would be able to do it by myself in the future. It was so helpful.
At one point, my school lowered my scholarship amount because I received a grant from another organization, leaving me with a balance of over seven thousand dollars. I needed to pay the full balance to register for my classes. I talked it over with my uAspire advisor during one of our CSS profile meetings, and she told me I was eligible for the uAspire CCIF grant. The grant was created to help students who may be in danger of stopping out of college due to a past due bill and other factors. The money I received paid my full balance, and I could register for my classes and not worry. Without the support from my advisor, I don't know what I would have done.

This year I will be a junior, and I am so proud of what I have accomplished. Vassar is such a great school, and I am achieving my goals. It's only going to go up from here.