Skip to main content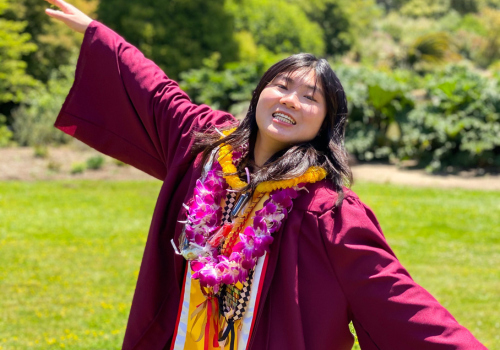 I'm the first person in my family to go to college. It was very difficult to navigate things like the FAFSA—the logistical aspects of the forms were the most frustrating and stressful parts. My parents immigrated from Vietnam, so, growing up, they were not familiar with the school system, which isn't their fault, but it was definitely hard trying to go through doing forms by myself.
I was a pandemic high school graduate, so I didn't get the traditional experience because my junior and senior years of high school were spent on a computer. In my senior year, I was having a very difficult time filling out my FAFSA so I went to counseling to get help. The public school I went to had about 500 kids dedicated to two counselors. uAspire was able to help in ways the staff at my high school couldn't.
uAspire definitely lifted a lot of the burden off of me. Not needing to go through it alone was the best part. I had my advisor, Victoria, to guide me when my parents weren't able to. I could just easily text her and ask her something really quick and the help was almost immediate. At one point I was frantically searching for scholarships and uAspire connected me with outlets to find scholarships and now I know how to navigate that better.
I cannot stress enough how worried I was about financial aid. Having Victoria to walk me through the steps was so helpful.
Victoria actually attended my college and was familiar with the way UC Davis handles financial aid. Coincidentally, she was the same major as me as well. I could ask her for advice, not simply on financial aid, but also on classes and academics. Victoria is very much a mentor to me in a lot of aspects. Because I was able to connect with someone who came from a similar background, I was able to also find a role model. Working with my uAspire mentor has definitely equipped me with the correct skills. I feel more prepared for the future.
I feel very privileged to be able to go to college. I just wrapped up my freshman year at UC Davis and it's been a turbulent time to be honest, but I'm excited now to continue after making some career changes. I'm looking forward to establishing my own path in life. College is the first time I've ever really had agency in what I'm learning, and I don't have to follow someone else's path. It's the most foreign thing but also the most exciting thing I could do as a young adult.

Lani attends University of California, Davis