Skip to main content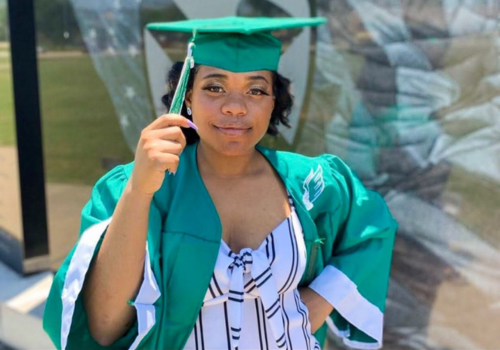 I knew from a little girl that I wanted to go to college. When my mom was diagnosed with breast cancer I interacted with a lot of nurses and doctors that inspired me to pursue nursing.
When it came time to apply to college, I had a lot of support from my family. I felt like I understood the process and could handle it on my own, but I was surprised at how tedious the financial aid process was.
Finances have always been a scary thing for me, so having additional support from my uAspire advisor was helpful. I knew my first two years of college would be covered by my dad's VA benefits, but I was still worried about the potential of unexpected costs. My advisor was able to provide me with scholarship resources to help.
Now that I am in my nursing program the ongoing support from my advisor has been great. I receive texts with FASFA updates, scholarship information, and to check in on how I am doing.
College means everything to me. I have moments when I question myself and wonder if I should continue nursing school, but when I really think about it, I am too far in to quit. I can't stop now. I look forward to becoming a nurse and working at a hospital. In five years I hope I am working towards my master's. My goal is to obtain as many certificates as I can because I do see the value in the knowledge you gain with each one.
College has taught me that you can't let your past keep you from finding your future pathway. Even when it seems like things won't work out, they will. You just have to keep moving forward, you have to want it. You can't give up.

Djuan attends Prairie View A&M University.