Skip to main content
Blog
uAspire's College Cost Calculator
March 3, 2021
By uAspire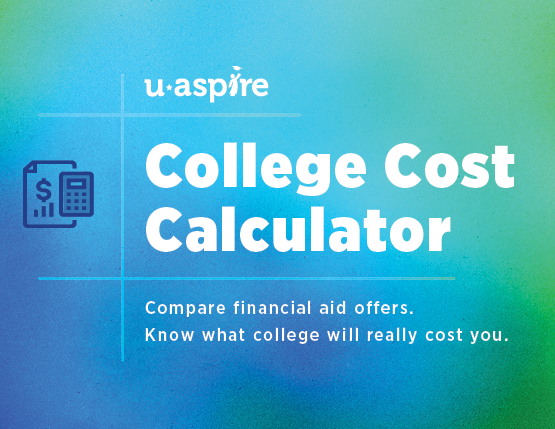 We're excited to announce uAspire's College Cost Calculator, a free online tool that helps students compare financial aid offers and the total costs of attending different colleges. Find it at uAspire.org/Calculator.
Each year, uAspire advisors review over 3,000 financial aid offers with students. We know first-hand how difficult these offers can be to decipher. There's no industry or government standard for colleges to communicate costs consistently or transparently to students. Different colleges use different formatting and jargon for the same types of financial and the information they include varies. Some don't clearly label student loans and often omit details about the total cost, making it a challenge for students to figure out how much they will have to pay.
Students deserve to navigate the process of financing college better, especially when leveraging their futures with loans to pay for a college degree. College-goers should be able to make apples-to-apples comparisons between schools easily, instead of having to decipher the information from a hodgepodge of offers. This is why we developed the uAspire College Cost Calculator and are providing students direct access to a decoding device for better decision-making about college.
Check out this video to learn more!
What are the benefits of using uAspire's calculator?
The calculator empowers students to know and compare the full costs of attending multiple colleges in order to make more informed decisions about where to go to college and how to pay for it while minimizing student debt. The calculator was developed to:
Guide students to find and enter information from their financial aid offers with help features at every step.
Reduce entry mistakes with data validation and error checks to flag potentially incorrect numbers.
Provide a one-page summary report that compares the aid offer, estimated bill for the upcoming year, and a four-year loan projection for each school. The report can be downloaded to a PDF and translated to Spanish, Chinese, and Vietnamese.
Create student accounts to be accessed, edited, and updated anytime from any device and shared with family members and counselors. Data is stored to provide year-to-year comparisons.
Improve students' financial literacy and self-advocacy skills with a searchable online dictionary of financial aid terms, next steps, and links to external resources. Accurate estimated college bills allow students and family to have more realistic discussions around the decision and costs of borrowing.
Who can use the calculator?
Anyone. uAspire's College Cost Calculator is available for general use, for free. The mobile version is easy to use like the desktop version, making it accessible for those without reliable internet access.
The calculator is also intended as a free resource for school counselors and program staff to share with their students; there is no sign-up process required. Coming this spring, we will offer partnership opportunities to help schools and college access organizations better support their students with financial aid offer review.
What distinguishes uAspire's College Cost Calculator from others?
There are many college cost calculators out there, offered by individual schools, financial firms, and online services devoted to college financing. uAspire's calculator is different because it was developed based on our experience working with students to understand and compare their financial aid offers. Since 2015, we have reviewed over 18,000 aid offers with 11,570 students.
This work motivated our 2018 research report, "Decoding the Cost of College: The Case for Transparent Financial Aid Award Letters," with New America to identify the ways these offers fail to adequately inform students and offer solutions to improve terminology and formatting. The colleges we studied used 136 different terms for "unsubsidized student loan"—in two dozen cases, without actually including the word "loan." Only 40 percent of the schools told students what they'd actually have to pay.
Distinguishing features of uAspire's College Cost Calculator:
Ease of use. With the amount and complexity of data that needs to be entered, we had to ensure a streamlined experience. The tool is thorough without being complicated so students can use it successfully on their own.
Accuracy. Other calculators require users to figure out where to input the information, often in financial jargon, without any support. Our calculator's guided interface walks students through finding and entering the most accurate information possible. Data validation checks ensure students are entering aid dollar amounts within an acceptable range.
Data updates. All information in the tool is regularly updated, from loan interest calculation to the external websites directing students to access additional information or help.
Reporting. A comprehensive one-page summary compares the aid offer, estimated bill for the upcoming year, and a four-year loan projection for each school, side-by-side. The report can be downloaded to a PDF and translated to Spanish, Chinese, and Vietnamese.
Help us spread the news about this empowering tool! uAspire.org/Calculator
Originally posted October 2020