Skip to main content
Blog
Update on uAspire Partnership with MA Attorney General
November 2, 2017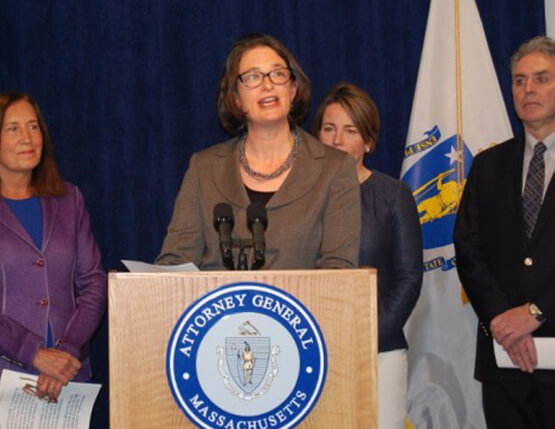 FOR IMMEDIATE RELEASE
November 2, 2017
MEDIA CONTACT:
Jillian Fennimore (AGO)
(617) 727-2543
Katie Hauser (Chamber)
617-557-7354
AG'S OFFICE, GREATER BOSTON CHAMBER OF COMMERCE ISSUE REPORT ADDRESSING STUDENT LOAN DEBT CRISIS
Recommendations from Student Debt Working Group to Help Students in Massachusetts Pursue Quality, Affordable Higher Education
BOSTON – Today, the Student Debt Working Group launched last year by Attorney General Maura Healey and Greater Boston Chamber of Commerce CEO Jim Rooney issued a report highlighting the group's accomplishments, recommendations, and initiatives underway to help student borrowers and address the student loan debt crisis.
Over the past year, the Student Debt Working Group – which has brought together leaders from the business community, non-profits, and government to exchange ideas for improving access to higher education – have come together to discuss strategies to reduce unaffordable debt, increase transparency in student lending, and learn about programs at colleges and universities to create more affordable paths to graduation and into the workforce and help employees manage and repay their loans.
"Addressing the student debt crisis in our country is going to take everyone rolling up their sleeves," AG Healey said. "Our Working Group brought together leaders from the business community, colleges and universities, and nonprofits, to share new ideas about how to help students and families, while championing our state's role as the center of American higher education. I thank Jim Rooney and all of our partners for their work on this report and our ongoing initiatives."
"On behalf our entire membership, the Greater Boston Chamber is grateful for and proud of the work of our Student Debt Working Group, and we are thankful to the Attorney General and her team for their partnership on this important effort," said James E. Rooney, the Chamber's president & CEO. "Our region's economic success is driven by our talented workforce, and, in Greater Boston, much of that talent includes our booming young professional population. If we want to continue to be able to attract and retain this important demographic, as well as the businesses that rely on it to succeed, we must find solutions that allow our talent pool to better plan for their financial future, including solutions to rising student loan debt burdens. With the publication of today's report, we look forward to rolling out more of the Working Group's initiatives in the coming months."
Nearly 45 million Americans have student loan debt, totaling more than $1.4 trillion in loans. In Massachusetts, 66 percent of the graduating class of 2015 began their career with student debt, averaging nearly $31,500 per student. For younger people, debt affects their ability to buy a home, get married, and have children. For older borrowers, student debt creates challenges in planning for retirement.
Today's report presents concrete ways that leaders from the business community, government, higher education and non-profits can come together to make progress towards improving the state of student debt in Massachusetts. It includes five key issue areas: financial education and transparency, college affordability, degree completion, debt repayment, and bankruptcy relief. The Working Group broke into subcommittees to address each of these topics.
Financial Education and Transparency
The subcommittee focused on the financial aid award letter, which is sent to prospective students and provides information about the financial aid package available. In March 2017, the AG's Office worked with uAspire and members of the Working Group to launch an initiative to help students and families understand and compare award letters. The AG's Office also created an Understanding Your Financial Aid Award Letter webpage to help students and families decode and compare financial aid packages offered. The Working Group will continue to promote transparency and uniformity in financial aid award letters and advocate for legislation to ensure that schools are providing clear and complete financial aid information.
College Affordability
The subcommittee explored initiatives to assist students and families in finding affordable paths to a college degree. The Working Group encourages the Legislature to review its funding of need-based aid and develop a multiyear effort to increase the state's investment in financial aid for students. It also discussed ways the business community can lend support by providing students with job opportunities and mentoring. Also highlighted was the important role of the Department of Higher Education, the efforts of public institutions, and successful initiatives to facilitate more affordable pathways to a four-year degree such as the MassTransfer and Commonwealth Commitment programs.
Degree Completion
The subcommittee focused on students who do not complete their program of study and how that plays into the growing problem of student loan debt. They discussed innovative programs that schools have undertaken to accelerate degree-completion. The Working Group will share information about programs that have been successfully implemented to support students and help them achieve their educational goals.
Debt Repayment
The subcommittee explored innovative methods to assist student borrowers with their debt burdens. The Working Group will provide resources to employers considering student loan repayment programs as an employee benefit. The Greater Boston Chamber of Commerce will also advocate for the passage of federal and state legislation to incentivize employers to provide tax free student loan assistance to employees.
Bankruptcy relief
Some of the most distressed borrowers burdened by student debt find themselves turning to bankruptcy for relief. In the coming months, the Working Group will launch a program providing free legal services for student borrowers in partnership with the Massachusetts Bar Association and with assistance from the AG's Student Loan Assistance Unit and Chamber of Commerce law firm members.
The Working Group consists of members from a variety of backgrounds who have come forward to work together on issues relating to student debt. Led by the AG's Office and the Greater Boston Chamber of Commerce, the group includes representatives from the business community, public and private institutions of higher education, and various branches of government, non-profits and other organizations dedicated to providing assistance to students.
For a full list of Working Group members and today's report, click here.
Over the past several years, increasing access to affordable higher education and combatting fraud and abuse in student lending have become top priorities for the AG's Office. AG Healey's first-in-nation Student Loan Assistance Unit has helped student borrowers understand their repayment options, resolve defaulted loans, apply for discharges, and mediate billing disputes with loan servicers.
Massachusetts borrowers who are looking for student loan help or information should visit the AG's Student Lending Assistance page or call AG Healey's Student Loan Assistance Unit Hotline at 1-888-830-6277.
#####
Statements from Student Debt Working Group members:
Treasurer Deb Goldberg
"I want to thank the Attorney General for her collaborative work tackling issues surrounding student debt."
Senator Eileen M. Donoghue
"My experience as Vice Chair of the Higher Education Committee and Chair of the Subcommittee on Student Loans and Debt has given me a deep understanding of the crushing financial crisis faced by students and families. I applaud the Attorney General's leadership on this vital topic and the Working Group's eye-opening report that backs my bill that encourages Massachusetts employers to offer student debt repayment. This innovative measure will bring relief to debt-saddled graduates, while helping local companies attract and retain talented young workers."
Gabrielle King Morse, Executive Director of uAspire MA
"At uAspire, we work with 8,000 low-income families across Massachusetts annually to provide the assistance necessary to make informed financial decisions about where to attend college and how to pay for it. This AG-led partnership has put a spotlight on the important role that colleges must play in making sure the financial aid award letters they send to prospective students are understandable and transparent. Families need to fully understand what their financial obligations will be before deciding where to attend."
Richard Doherty, President of the Association of Independent Colleges and Universities in Massachusetts
"Attorney General Maura Healey and Greater Boston Chamber of Commerce CEO Jim Rooney have skillfully coalesced the business community, government officials, and higher education leaders to bring innovative ideas to the issue of student debt. Meaningful investments in need-based financial aid programs, coupled with novel proposals by the business community to help employees pay down student loans, will help students complete their college degree on time, while allowing them to launch their careers more quickly right here in Massachusetts."
Jennifer Hanson, Head of Associate Experience at Fidelity Investments
"Fidelity is committed to helping our customers and employees be financially well, and the high cost of student loan debt can be a large part of that equation. We have been pleased to be part of the Student Debt Working Group and look forward to continuing this important work in Massachusetts."
Chris Duchesne, Vice President at EdAssist, a division of Bright Horizons
"Student debt affects where people can live and work, the types of jobs they are able to take, and their ability to save for retirement. Serving as co-chair of the Debt Repayment subcommittee provided an incredible opportunity to connect with area business leaders on the mutual value of helping pay down employees' student loans – where employers not only alleviate a major source of stress for employees and pave the way for a smoother financial future, but also become armed with a powerful recruitment and retention tool. We are grateful for the work of the Attorney General and Boston Chamber in promoting the adoption of this benefit, both through the creation of a 'how-to' toolkit for employers as well as by advocating for legislation around making student loan assistance tax-free."
Julie Lammers, Vice President of Consumer Advocacy and Government Relations for American Student Assistance
"American Student Assistance appreciates the opportunity to work with Attorney General Healey and the Greater Boston Chamber of Commerce to address the pressing challenge of student debt in the Commonwealth. Despite the many benefits derived from a higher education, for too many in Massachusetts, the heavy burden of student debt has become an anchor that inhibits the attainment of life goals. We look forward to continuing to work with the dedicated members of the Student Debt Working Group so that we can implement innovative solutions to this challenging issue. In particular, ASA is pleased to support efforts that would create tax incentives for employers offering student loan repayment benefits, and efforts to increase financial education and transparency so that students and families can make smart postsecondary decisions. This working group, under the leadership of the Attorney General and Greater Boston Chamber of Commerce, has begun to chip away at the myriad issues that face student loan borrowers and ASA looks forward to continued efforts to ensure that student borrowers can not only survive in our Commonwealth, but thrive."
Bob Hildreth, Chair, Inversant
"The present crisis in student loans has ensnared both colleges and students. At this point, there are no easy solutions. Our task is to limit the damage to our system of higher education so critical to the nation."
Michael Weekes, President and CEO of the Providers' Council
"One of the biggest challenges in our non-profit human services sector's ability to serve the Commonwealth's most vulnerable is retaining, and potentially recruiting, talented employees who are burdened by crushing student debt. The Working Group's proposals, if adopted, would be significant first steps for our collaboration of non-profit human services, government, higher education and the for-profit community to positively address this crisis. The Attorney General's Office should be commended for bringing these groups together to develop a well thought out framework for addressing this student debt loan crisis."
Pichon Duplan and Tucker Matheson of Fast Forward
"Student debt is a major challenge in our community and Fast Forward commends the Attorney General's Office and the Chamber for bringing all our groups together (including us) to take action and create innovative solutions that will open up career and community development opportunities for our leaders of tomorrow."