Skip to main content
Blog
uAspire Students Advocate for Reforms on Capitol Hill
March 28, 2019
By Jason Johnson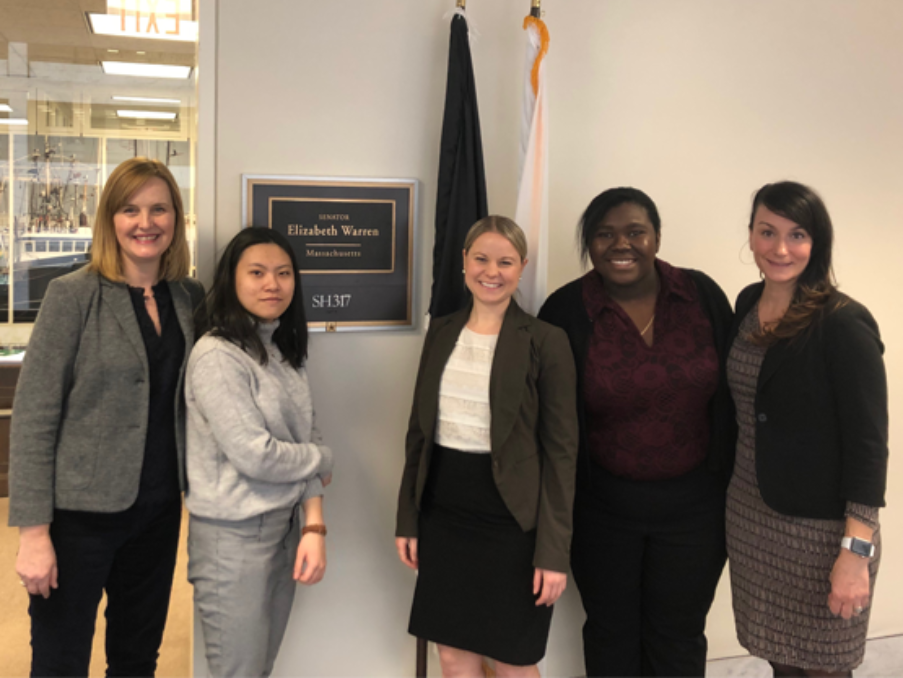 uAspire students Junie Arcene and My Pham met with members of Congress earlier this month to advocate for financial aid policy reforms. They joined roughly 150 education advocates and students to speak with lawmakers and their staff as part of an advocacy event on Capitol Hill hosted by the National College Access Network (NCAN).
Junie and My, both students at Northeastern University, spent two days in Washington D.C. An advocacy training on the first day included affordability discussions, lessons and practice on telling impactful stories to elected officials, and hearing from legislative staffers on the House and Senate education committees.
The next day's Hill meetings were focused on expanding state and federal policy initiatives to improve students' postsecondary success. uAspire Chief of Policy Laura Keane and Senior Director of Policy & Systems Change Ali Caccavella joined Junie and My for visits with the offices of U.S. Sen. Edward J. Markey, Rep. Seth Moulton, Rep. Richard Neal, U.S. Rep. Ayanna Pressley, and U.S. Sen. Elizabeth Warren.
The top issues discussed were simplifying the Free Application for Federal Student Aid (FAFSA), strengthening the Pell Grant, and standardizing financial aid offer communication. As seen in uAspire's advising of students across the country, financial aid award letters are rife with inconsistencies and lack key information that make choosing an affordable college extremely difficult.
My explained to staffers that she received financial aid offers that highlighted scholarships but were missing all cost information, making it impossible to know what she would owe until later. Junie said she found it challenging having to navigate confusing jargon as a first-generation college student.
"The issue of financial aid letters is very important and oftentimes overlooked," said Junie. "As a college student, the financial aid letters I received were difficult to decipher. Even now, as I'm going through the application process again, I'm still struggling and reaching out for help with the letters. I also know that I am not the only one going through this."
Debate in Washington on higher education and college affordability is heating up. The Higher Education Act (HEA), the legislation governing the federal student aid programs, is anticipated to be considered for reauthorization later this year by Congress. As part of the HEA reauthorization, uAspire leads the charge for standardizing financial aid communication alongside our NCAN coalition, and we are deeply grateful to Junie and My for advancing this work.
"Advocating alongside Junie and My unsurprisingly proved to be the most poignant and powerful day of advocacy yet for uAspire," said Keane. "Hill staffers opened up and shared their own stories of struggling to navigate affording college as fellow first-generation students. They consistently thanked Junie and My for representing students in Washington and listened closely to their needs and advice."