Skip to main content
Blog
uAspire Student Policy Fellows Spotlight
June 16, 2022
By uAspire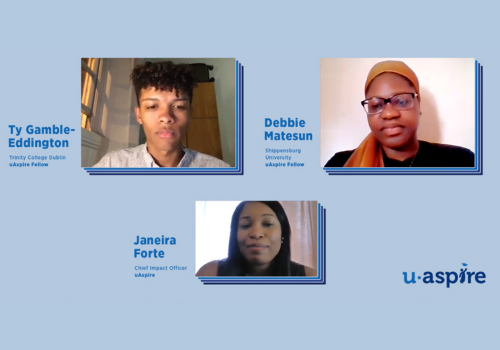 Hear from uAspire Student Policy Fellows Debbie and Ty about the college affordability issues they're addressing through research, testimony, and advocacy. Learn what drives them to influence policies that will shape an equitable higher education system.
Janeira: My name is Janeira Forte and I'm the chief impact officer here at uAspire. I'm pleased to spotlight one of our impact areas in this segment about our organization's policy and advocacy work through the lens of our two policy fellows. I'm joined by Ty Gamble-Eddington and Debbie Matesun, two policy fellows.
Ty graduated from Union College in 2021, is currently a George J. Mitchell Scholar at Trinity College, Dublin, earning his Master's Degree in Race, Ethnicity, and Conflict, and was recently named a 2022 Rhodes Scholar. Debbie is a student at Shippensburg University majoring in psychology.
Welcome to both of you. I'm so glad to be joined by you and excited to dig in and engage. For the first question, what drew you to policy?
Debbie: I'm very passionate about a lot of things and I advocate for those things as well. I knew that advocacy, true advocacy, was more than liking a tweet. And I was attracted to uAspire's work environment because they're very open to feedback and they listen to students, and they give students a voice. And coming to uAspire, I was able to get a mentor who encouraged me that my voice matters.
Janeira: And Ty, what about you? What is your why uAspire?
Ty: I was attracted to uAspire primarily because of the student-centered way it approaches policy, but also because of its very broad breadth in terms of advocating for higher education for low-income students and marginalized communities and just more generally for everyone.
I come from a low-income background and so I was very enthusiastic to see that many of my peers, whether they be student advocates or people who work for uAspire, come from similar backgrounds and are very passionate about the work they do. So that combined with my past experience working in Massachusetts on a political level, primarily on campaigns at the local level and the state level, really encouraged me to want to do policy work and really to have a keen focus on higher education and how I can improve outcomes for people like me.
Janeira: Thank you both for those answers. And to get into this second question, what have been some of the projects and priorities, some of the issues you've worked on while at uAspire?
Ty: Most recently I've been working a lot on tracking the Massachusetts budget in relation to higher education. I've been tracking it through all those interfaces through the proposals—by the governor, by the ways and means committee, by various higher education non-profits, and also kind of government entities—looking at variances in terms of how much budget is allocated towards certain programs, whether they be things like Mass Grant or whatnot.
That's been what I've been doing largely recently, but throughout the year I've been working on things like advocating for the Transcript Trap Bill, which looks at making sure that schools can't retain your transcript for small amounts of fees owed or really any fees owed to the institution.
I've also been working on the Hunger-Free Campus Bill and advocacy around that, making sure that students have access to all the resources they need beyond just tuition, including food and other reasons. So those have been three of the really big projects I've been working on.
Those have really shown me that the costs of college go very far beyond what you may think it is. Especially I think many students, when they get their financial aid package, they're very excited. They're like 'I have everything covered. Everything's perfect, right? I have full aid, there's nothing to worry about.'
But, in reality, there's a lot of those hidden costs that I think uAspire does a really good job at addressing, whether they be getting your transcript, making sure you have access to a federal or state program related to getting food, whether it be advocating for parents who are students and need various other instruments in terms of daycare or whatnot.
uAspire does a really good job in terms of making sure that the student as a whole has their needs met. And that's really what my projects have been focused on. How do we make sure those needs are met? What are those needs and how can we really expand the apparatus and support around students, especially those from marginalized backgrounds.
Janeira: When thinking about your biggest takeaway from advocating for college affordability, the skills you gained or what you learned, what would you say is your biggest takeaway?
Debbie: My biggest takeaway from being with uAspire as a whole is that your voice matters. It's important to be in the room. It's important to be a part of the decision-making. It's important to make sure that every avenue is addressed because at the end of the day, these decisions are being made on our behalf and it should be for the best interest of the students.
And, what I've learned is what I actually set out to learn from uAspire in the first place, how to be strategic in my advocacy so that it is effective, wherever it goes, whoever sees my research or whoever sees what I'm advocating for so that it can go far. And also, not only addressing the problems, but preventing them. That's a big thing because then we'll have to work on them constantly over and over again and then we're leaving these problems for the new generation after us.
That's not my goal. My goal is to work on this problem and prevent it for the people coming behind us. That even if I don't benefit from the problems solved, they will.
Janeira: Thank you for engaging with me in conversation and for all the brilliant work that you do to move our policy agenda forward.