Skip to main content
Blog
uAspire Raises $326,000 To Fund New York City College Affordability Assistance Program
June 10, 2019
By Jason B. Johnson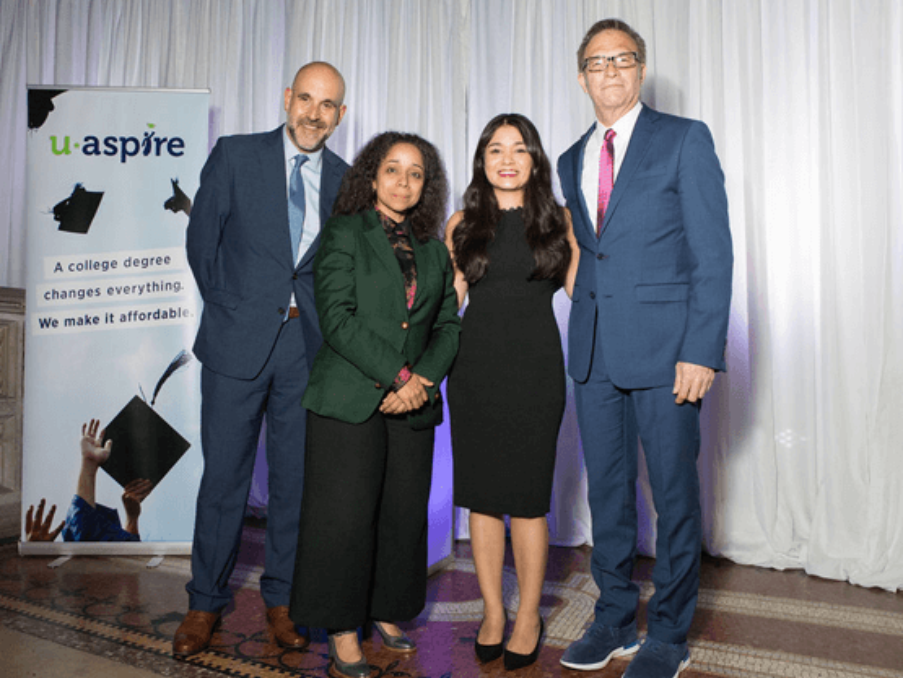 For Immediate Release:
June 10, 2019

Media Contact:
Jason B. Johnson, Communications Director
Phone: (781) 971-1461
Email: jasonj@uaspire.org
Inaugural event honored influential Columbia community members & first-generation college graduates Jennifer Gamez, Julissa Reynoso and Jim Valentini
NEW YORK — uAspire today announced that its first fundraising event in New York City—the First One Awards held on Wednesday, June 5—raised more than $326,000, to provide college affordability counseling services to thousands of area high school and college students so they can achieve their dreams of attending and graduating college. uAspire is a national nonprofit whose mission is ensuring that all young people have the resources necessary to make their way to and through college.

More than 150 guests gathered at Landmark on the Park for uAspire's signature First One Awards event, which celebrates those who are the first in their family to graduate from college, and honored three members of the Columbia University community whose stories exemplify the transformative power of higher education and the critical need for college to be an affordable option for all.

The 2019 class of First One honorees were:
Jennifer Gamez, Columbia Nursing School Doctorate Program Candidate & former uAspire student
Julissa Reynoso, Partner, Winston & Strawn LLP and former U.S. Ambassador to Uruguay
Jim Valentini, Dean of Columbia College & Vice President of Undergraduate Education, Columbia University

Former U.S. Secretary of State Hillary Rodham Clinton praised the powerful example of Ambassador Reynoso as a "First One" and as a role model for youth.

"I am so thrilled to join with your family, friends, and colleagues in congratulating you on being a uAspire First One Award honoree!" Clinton said in a statement. "As an immigrant who graduated high school as valedictorian and went on to achieve tremendous academic and professional success, you understand first hand just how crucial it is for all young people—and especially first-generation Americans—to have the financial information and resources necessary to find an affordable path to and through college," Clinton added. "Indeed, your life is a testament to the vitality of the American Dream."

Gamez, was introduced by Caroline DeLeon, a former uAspire program director now at American University, and shared the impact that DeLeon had on her pursuit of undergraduate education and beyond.

"It's incredible how one advisor, can change not one, but multiple generations of immigrants and students who never in their wildest dreams would have pictured applying, much less getting accepted and going onto getting their doctorate at an Ivy League school," said Gamez.

Reynoso was introduced for her award by her colleague Seth Farber, partner at Winston & Strawn LLP and Valentini was introduced by Jonathan Lavine, co-managing partner at Bain Capital and co-chair of the Board of Trustees of Columbia University.

"As an organization, we see a day when all young people have the opportunity to reach their full potential by graduating from college, regardless of their families' financial resources or college experiences," said uAspire CEO Bob Giannino.

uAspire launched its services in New York City in the 2018-19 school year, bringing its innovative college affordability advising and training to students and college access and success providers in the largest, most diverse school system in the nation.

uAspire's lead partner in New York is CollegeBound Initiative (CBI), a best-in-class college access and success program of Student Leadership Network impacting more than 17,000 students in 32 schools across the city. Last year, uAspire served nearly 2,500 CBI students in their first year of college through an innovative virtual advising model, and provided training on key college affordability topics to the CBI team. By the start of the 2021-22 school year, uAspire aims to serve a minimum of 10,000 New York City students annually, ranging from high school juniors to 2nd year postsecondary students.

Over the next four years, uAspire looks to leverage their scalable programmatic model to bring on additional partners in New York City, including high schools, college access and success providers, community-based organizations and higher educational institutions.

###

About uAspire
Founded in Boston in 1985, uAspire has evolved into a national leader on the issue of college affordability, partnering with nonprofits, school districts, and charter management organizations in 27 states to train their student-serving staff, and provide guidance to thousands of young people. For more information please visit www.uaspire.org and follow uAspire on Facebook and Twitter.