Skip to main content
Blog
uAspire Partners with MA Attorney General
March 15, 2017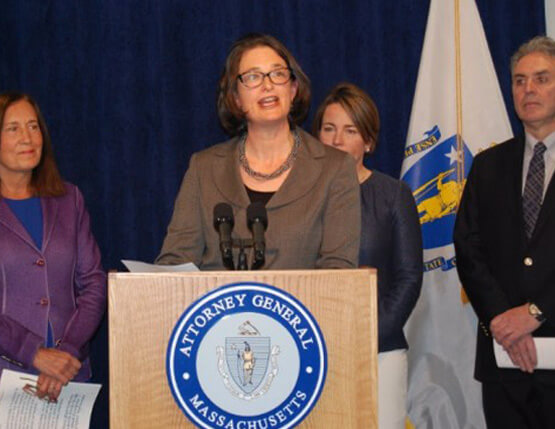 FOR IMMEDIATE RELEASE
March 15, 2017
MEDIA CONTACT:
Jillian Fennimore
(617) 727-2543
AG HEALEY ANNOUNCES FINANCIAL AID EDUCATION CAMPAIGN FOR STUDENTS LOOKING TO ATTEND COLLEGE
AG's Office Partners with uAspire to Highlight the Importance of Understanding Financial Aid Award Letters
BOSTON – As colleges and universities begin sending financial aid award letters to prospective students throughout Massachusetts, Attorney General Maura Healey has launched a campaign to help educate families about their higher education options and understand how to pay for them.
Last year, the AG's Office and the Greater Boston Chamber of Commerce created a Student Debt Working Group to develop concrete proposals to help Massachusetts students pursue quality, affordable higher education. This new initiative is the result of a partnership between the AG's Office and uAspire – a nonprofit organization that provides students with counseling and tools to find an affordable path to and through college.
"This is an exciting time of year for students and families who are making important decisions about going to college, but financial aid award letters can be hard to digest," AG Healey said. "Through our office's work to address fraud and abuse in student lending, we have seen the impact that student debt is having in Massachusetts and across the country. This initiative is about better understanding financial aid packages offered by colleges and making an informed decision about where to enroll and what it will cost. We are pleased to partner with uAspire to make sure that all of our students can pursue quality, affordable education."
Today's campaign includes helpful graphics, sample forms, tips, and resources online to help students and families understand and compare financial aid award letters and determine the amount of money they'll need to pay for college. While most acceptance letters are straightforward, the financial aid award letters can be confusing, hard to compare, and vary greatly from school to school. Too often, the AG's Office hears that students did not realize how much they would owe until after they finished school.
"uAspire is grateful for the opportunity to partner with the Attorney General's office and the Boston Chamber of Commerce to give Massachusetts families the resources and information they need to effectively analyze award letters, a critical step in making a sound financial decision when choosing a college," said Gabrielle King Morse, Executive Director of uAspire Massachusetts.
"We are so proud to have partnered with the Attorney General's Office on the Student Debt Working Group, and we are pleased that, in short time, this partnership has produced a wonderful resource to help students and their families make informed decisions about their higher education and financial aid options," said James E. Rooney, president & CEO of the Greater Boston Chamber of Commerce. "Maintaining our state's reputation for the most talented workforce in the world, and improving access to education at all levels, for all Massachusetts residents are top policy priorities for the Greater Boston Chamber and our members. We are thankful to the Attorney General for her commitment to addressing these critical business issues, and look forward to more collaborative and productive work in the coming months."
The AG's Office and uAspire, has offered the following tips for students and their families when receiving college financial aid award letters:
Know the difference between loans, grants and scholarships: Many award letters do not clearly separate these different types of financial aid. Scholarships and grants are free money and never need to be repaid. Loans must be paid back with interest.
Estimate actual costs: The amount you will actually have to pay (either now or in the future) is sometimes called the "net cost." To calculate it for yourself, subtract all the free money (grants and scholarships) from the total cost of attendance. Some schools offer a link in your online school account to a Financial Aid Shopping Sheet that can help you identify the actual cost.
Compare award letters: The school offering the most financial aid is not necessarily the most affordable. Use the Consumer Financial Protection Bureau's award letter comparison tool to help you compare award letters. Be sure you are making an apples-to-apples comparison. For example, while some schools may include personal expenses and transportation costs in award letters, another may not.
Be cautious: Although some schools may include federal Direct Parent PLUS loans on award letters, the parent is the borrower and must be approved for the loan. If additional loans are needed, explore all of your options, including federal Parent PLUS loans and private loans. Keep in mind what is affordable for you and your family, and make sure you understand what your monthly loan payments will be.
Understand your options: Award letters typically include student loans from the government, including federal, state, and Perkins loans, which typically offer lower interest rates and/or more flexible repayment options. As a general rule, you should exhaust these student loan options before resorting to private loans.
Don't borrow more than you need: Keep in mind that you do not have to borrow the full amount of loans offered and can ask the financial aid office to reduce them. Be aware that checks provided for living expenses are often loans that will need to be paid back later with interest,
Add up the loans and multiply: Once you determine the amount you will need to borrow, multiply that by the number of years you will be in school. That is minimum amount you will owe.
Plan how you will pay the rest: Remember that you will get a bill from the school for any part of the actual cost that is not paid for with scholarships, grants or loans.
Take action: Look for instructions in the award letter about deadlines or next steps to accept or decline the financial aid. Once you have made your decision, be sure to send in a tuition deposit to reserve your spot.
Addressing fraud and abuse in student lending has been a top priority for AG Healey since taking office, whether taking predatory for-profit schools to court, and changing the practices of student loan servicers, to going after unlawful student debt relief companies, updating the U.S. Department of Education's federal loan discharge regulations and helping thousands of struggling Massachusetts student borrowers secure relief and get out of debt.
The AG's first-in-the-nation Student Loan Assistance Unit has helped student borrowers understand their repayment options, avoid or resolve defaulted loans, and mediate billing disputes with loan servicers.
Each year, the Student Loan Assistance Unit receives hundreds of calls from students and parents who are struggling with student loan debt. Those with questions or concerns about financial aid award letters should call the hotline at 1-888-830-6277 or fill out the intake form online for assistance.
Students and families can also get individual help by bringing award letters to a workshop hosted by MEFA. They may also call or visit an American Student Assistance College Planning Center in Boston or Brockton where counselors are available to help you, or go to their website for helpful resources. Students are also advised to use CollegeScorecard.ed.gov to learn more about each school, including the costs of attendance, graduation rates, and the average earnings of graduates.
###