Skip to main content
Blog
uAspire Last Dollar Scholarships Awarded to 16 Greater Boston Students
July 29, 2019
By Jason Johnson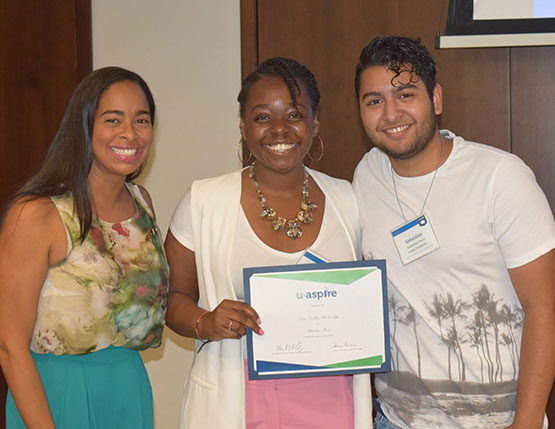 Need-based award fills the final gap for students so they can attend college
uAspire awarded Last Dollar Scholarships to 16 Greater Boston students in July to cover their unmet college expenses. The event was hosted by Loomis, Sayles & Company, featured inspirational advice from current and former college students, and gave students the opportunity to learn the benefits of networking and practice with Loomis volunteers.
Last Dollar Scholarships are need-based scholarships intended to help reduce the financial gap that many students have after receiving financial aid from their college. These vital scholarships, paired with uAspire's college affordability advising services, help students overcome the financial barriers to higher education, and lead to increased college enrollment.
The students also received care packages containing dorm room essentials assembled by Loomis Sayles volunteers, designed to alleviate some of the non-tuition related costs of attending college.
"(Our) mission is of critical importance to the well-being of our country, in a time when student loan debt has exceeded credit card debt, reaching 1.5 trillion dollars," uAspire MA Regional Director Elsa Martinez-Pimental told the gathering. "We hope this scholarship can go a long way towards making college a reality by filling the gap and serving as the last dollar to getting these students closer to enrollment in the fall."
The scholarships are distributed based solely on financial need for students who have worked with a uAspire college affordability advisor. They range from $500 to $2,000 and are renewable for up to six years.
May Bumar, a former uAspire student, shared her story with this year's students. May graduated from college in 2016 and works at Liberty Mutual Investments as a senior analyst.
"There are times when you will feel challenged, but remember the people in the room here today and elsewhere who are rooting for your success throughout this journey," May said. "Thank you all for being here and lending your support to students like me."