Skip to main content
Blog
uAspire's MBSK Initiative Hosts Black Family FAFSA Frenzy
December 22, 2016
By Mat Cerf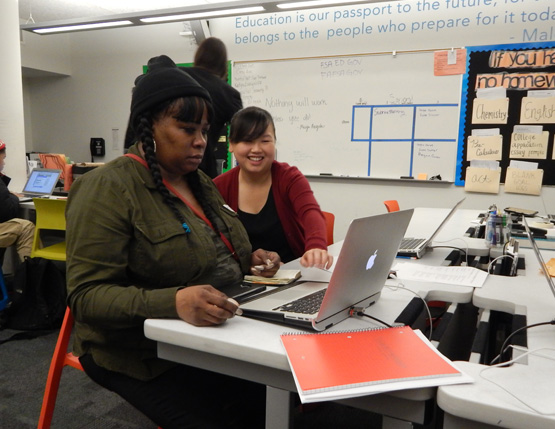 Tyasia Reynolds is fiercely independent. "She got it from me," says her mother, Tasha McCoy, "from watching me at times when I needed help but couldn't call on anyone." Now a senior on track to graduate from Mission High School in May, Tyasia is one of only 253 African American 12th graders in the San Francisco Unified School District (SFUSD). "She's seen that no one is going to give you anything," says Ms. McCoy. "You have to get out and get it on your own, and she lives by that—with everything."
Tyasia is focused. She wants to be the first in her family to complete college, and after college hopes to return to San Francisco to become a technical engineer. According to her mother, she has her eyes set on Hampton University, a school located in Virginia that, like many historically black colleges and universities, is not known for its affordability.
"As far as cost," says Ms. McCoy, "she's not too worried about it like I am, but I won't put her dreams on hold. My dreams are on hold, but I want her to go as far as she can."
On Saturday, December 10, to support students in affordably achieving their college dreams, uAspire Bay Area held our first Black Family FAFSA Frenzy. Co-hosting the event with uAspire were SF Achievers and 100% College Prep—two of the 21 community-based organizations collaborating on SFUSD's African American Postsecondary Pathways Partnership (AAPPP). AAPPP was born out of the city's wider My Brother's & Sister's Keeper (MBSK) initiative seeking to create cradle-to-career strategies to promote positive academic and professional outcomes for young people of color.
Despite heavy rain, by 10 a.m. students and parents had arrived at College Track's Third Street site in Bayview/Hunters Point—a neighborhood whose decreasing black population reflects a trend that can be seen across San Francisco. As the event began, students and parents chose seats in different rooms—each offering guidance on a different facet of the aid application process, from FSA ID creation and FAFSA completion to reviewing Student Aid Reports and learning about outside scholarships. The families had all joined us to complete steps in the financial aid application process, yet the specific needs of each student varied—a reminder of the complexity of the process of affording college and the need for expert supports.
"The biggest roadblock is support," explains Ms. McCoy. "A lot of these kids don't have support…the support to tell them that this is something important, that this is something you need to do."
For Derrick McWay, who attended the event with his father, Derrick McWay Sr., accessing the financial aid to make college possible would make him, like Tyasia, the first in his family to complete college—an accomplishment that both students wear with pride. "No one else in my family really completed college, so I wanted to be the first," says Derrick. "I want to be a positive influence on the ones younger than me, like my nephews and cousins."
For every student like Derrick or Tyasia, there is a student who is off-track for graduation, perhaps not even believing a college education is possible. uAspire hopes to show students and families that an affordable college education is possible. Saturday's event reaffirmed the need for our services and the importance of the city's MBSK initiative. With leadership from SFUSD, the help of program partners, and the generous support of our donors, uAspire is proud to work towards improved college outcomes for African American students by providing them with the resources they need to make college affordable.
About uAspire's MBSK Initiative
In 2015, Google.org committed $1 million to Spark*SF Public Schools to fund the launch of uAspire Bay Area's joint work with SFUSD on the city's My Brother's and Sister's Keeper (MBSK) initiative. Thanks to this support, uAspire extended its programming to offer affordability advising services to all 250 African American high school seniors in San Francisco's Unified School District. To learn more about this work or to get help from uAspire, please contact Britt Bass, uAspire's MBSK Project Manager, at brittb@uaspire.org.