Skip to main content
Blog
The Results Are In: Assessing the Preliminary Impact of Early FAFSA
March 14, 2017
By Mat Cerf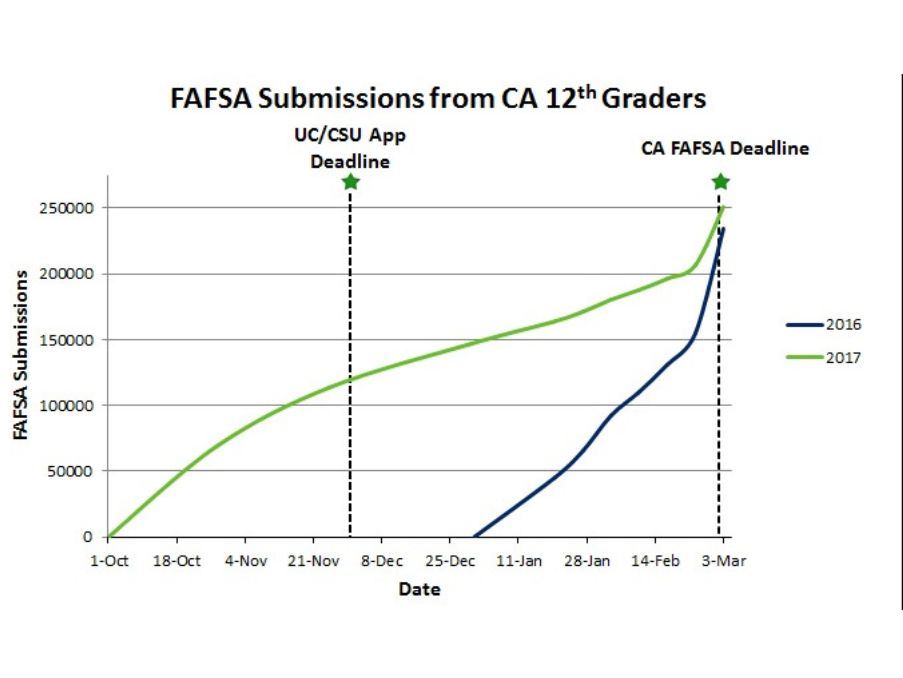 When Enrique first met with his uAspire College Affordability Advisor, Michael Lau, in early October, he had already completed his FAFSA (the Free Application for Federal Student Aid). In Mike's three years as a uAspire Advisor, this was a first—not because it was unique for students to proactively finish the application on their own, but because this year FAFSA became available to students three months earlier than ever before.
Along with opening the FAFSA application period on October 1 instead of January 1 as in years past, the Office of Federal Student Aid (FSA) introduced another significant change this year. Now students and parents can use tax information from two years ago instead of from the prior year.
Here in California, the change to make FAFSA available on October 1 was also mirrored in the California DREAM Act application—the form that many of our state's undocumented students can use to qualify for state financial aid programs. College affordability advocates greeted the changes to the FAFSA and CA Dream Act with excitement, as they allow more time for students to access critical federal and state financial aid and simplify an important step in the complicated application process.
This year, as in previous years, March 2 marked the deadline for California students to submit FAFSA/CA Dream Act applications. In the most recent year for which data is available—2014-2015—California distributed over $1.8 billion in Cal Grant aid to students, and 63% of California high schoolers who submitted their FAFSA the previous spring qualified for a federal Pell Grant—at an average amount of $3,731. Taking a look at submission data through March 2 of this year provides the first indicator of whether the changes made to the FAFSA and CA Dream Act have translated into the increase in applications that educators and advocates hoped for.
FAFSA Submission Rates
Through March 2, FAFSA submissions in California totalled 250,975—a 7% increase from last year's total through the same date*. A similar increase is seen for FAFSA completions, the step of resolving all errors after a FAFSA submission. FAFSA completions jumped to 223,732—a 12% increase from March 2 of last year. This data is a promising sign that the increased time and use of Prior Prior Year taxes enabled more students to access aid.
Another important opportunity presented by Early FAFSA is that students were able to submit their FAFSA before college applications were due, allowing them time to see what federal aid they are eligible for in time to adjust their college list to add what uAspire calls "financial safety schools" if needed. And the data shows good news: by the November 30 deadline for applications to California's public universities, a number of students representing nearly 50% of last year's submission total through March 2 had already submitted their FAFSA!

CA Dream Act Application Submission Rates
Despite becoming available October 1 like FAFSA, the story of CA Dream Act submissions this year follows a different narrative. Through the second week of February, CA Dream Act application submissions from new applicants (i.e. not including current college students seeking to renew their aid) were at 62% of last year's total through the March 2 deadline. For comparison, FAFSA submissions at the time were already at 77% of last year's total through March 2**. After the California Student Aid Commission shared this data with educators and advocates, widespread concern arose that, given recent developments in our political climate nationally, undocumented students were not submitting their CA Dream Act application for fear that their information would be used to identify them as undocumented and put them or their family at risk.
These concerns prompted efforts across the state to assure undocumented students of the security of any information they submit on the CA Dream Act application. Thankfully, when the March 2 deadline came around, total submissions had surpassed last year's number by 5%. Among new applicants, submissions totalled 13,155—just 9 short of last year's total. Still, submissions of new Dream Act applications lagged far behind the increase in FAFSA submissions, highlighting the need for continued efforts to assure undocumented students of the privacy of their data and support them in navigating the new political reality.
Looking Forward
For now, we can celebrate the increase in FAFSA submissions and improve outreach campaigns to undocumented students next year. In addition, there's still time for students to update their FAFSA or CA Dream Act application if any corrections were needed after the initial submission.
As for Enrique, a few days after submitting his FAFSA in October, he met with Mike to go over his Federal Student Aid Report, and Mike explained that he did not qualify for a Pell Grant. However, based on his GPA and his family's income, Mike noted that he did meet the eligibility criteria for a Cal Grant. While having any grant aid was good news, the one grant would not cover all of Enrique's college expenses, so the two laid out a plan to apply for outside scholarships and to apply to a "financial safety school" as well.
Enrique's story underscores one of the key advantages provided by Early FAFSA/CA Dream Act—the opportunity to make college application decisions that are more financially informed. Ultimately, the extent to which the changes made to these applications truly increase postsecondary achievement for students will depend in large part on students using the information provided to them at the time of FAFSA or CA Dream Act submission to make more informed decisions. The scale of that impact may become visible—in students' college enrollment and persistence rates—in the years to come.
*Data for FAFSA submissions is provided by the US Department of Education's Central Processing System and is made publicly available by the Office of Federal Student Aid at the US Department of Education. FAFSA data does not include application submissions/completions from high schools with less than 5 total submissions/completions processed through March 2nd.
**Data for CA Dream Act Submissions is provided by the California Student Aid Commission in this report