Skip to main content
Blog
Support the Massachusetts Hunger-Free Campus Initiative
November 9, 2021
By Lesley Baez, uAspire Student Advocacy Fellow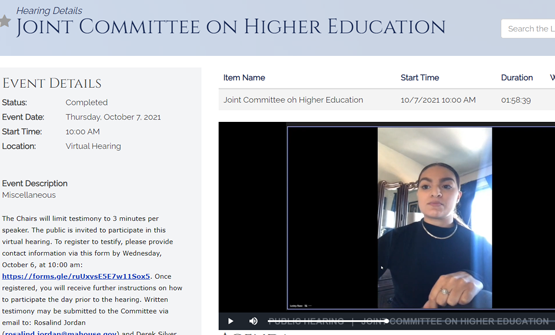 Lesley Baez's Testimony on October 7, 2021 to the Joint Committee of Higher Education in Support of H.1368 / S.822, Massachusetts Hunger-Free Campus Initiative
While many community college students from low-income families get their tuition and fees covered by state grants and the federal Pell Grant, the crushing costs beyond the college bill, including food, are left to the students to cover. As a student with an Expected Family Contribution of zero living in subsidized housing, I always have to carefully consider how I spend every dollar. I usually spend my federal work-study earnings on school supplies, transportation, and to help with rent. I often must skip a meal in order to prioritize getting school supplies needed to be successful in my classes.
Food insecurity among college students is widespread. According to a 2020 survey by the HOPE Center, 42% to 56% of Massachusetts community college students are food insecure. This crisis affects students of color, like myself, in greater numbers. According to an October 2020 Project Bread report one in six white households were food insecure, versus one in three Black households and one in four Latinx households.
Food insecurity threatens the health of a great number of students and will continue to do so unless there are more resources to support students' basic needs while pursuing a college degree. This is why the legislature should pass S.822/H.1368 - An Act Establishing the Massachusetts Hunger-Free Campus Initiative. This bill would establish a grant program for colleges that take steps to establish themselves as hunger-free campuses.
For example, these grants could be used to support students' access to already available food resources such as the Supplemental Nutrition Assistance Program (SNAP). It would be very helpful for staff on campus to help students understand SNAP benefits, apply for the program, and navigate alternative options in case they aren't eligible. This will allow more students to be aware of and receive assistance for which they qualify. This outreach and support for application would be very useful at Roxbury Community College where I attend, so we are aware of what is available and can take advantage of federal food supports.
Another benefit this bill could have is assisting in creating or expanding emergency food funding or food pantries. A model example for community college investment in students' basic needs is at Amarillo Community College. They fundraised to provide wrap-around support for students and have seen increases in the graduation and four-year transfer rates of their students. With the Massachusetts Hunger-Free Campus grant, community colleges could similarly open or expand food pantries. Although there are vendors on community college campuses that serve lunch and breakfast, these meals are often overpriced and unhealthy for students to consume on an everyday basis.
Food insecurity is a tremendous burden that can limit students' wellbeing and college success. Many of us who attend community colleges do so primarily because of its low price. Money is already a major concern for most of us, and food competes with books, transportation, and rent when it comes to prioritizing expenses for college. It is not only right to receive proper funding for basic needs resources that more than half of today's students desperately need, it is also a smart investment in the future of our nation.