Skip to main content
Blog
Students Tackle Costs #BeyondTheCollegeBill During Virtual Advocacy Week
June 17, 2020
By Ali Caccavella, Anika Van Eaton, and Tyler Wu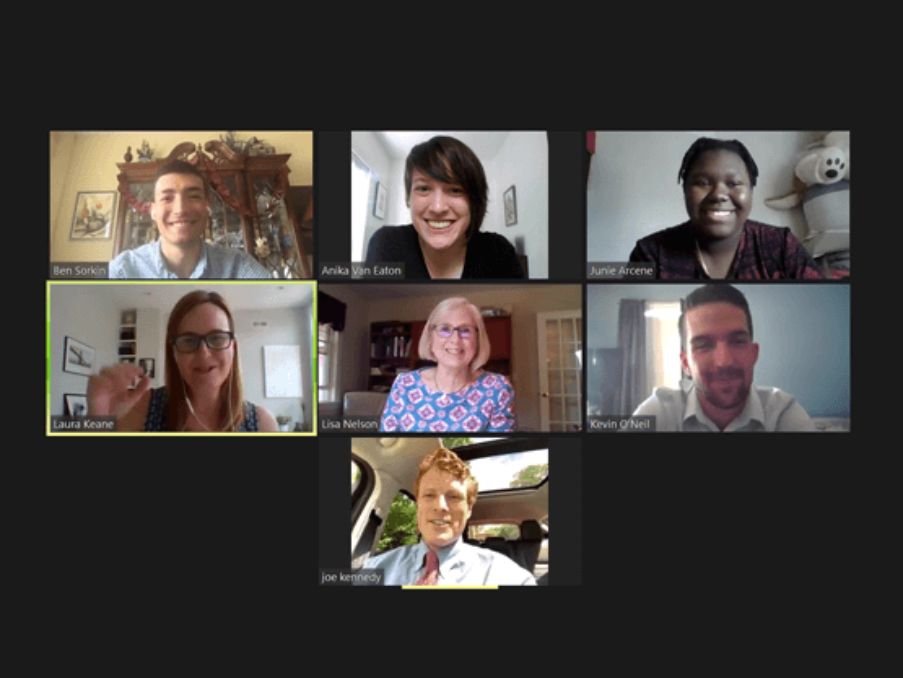 "How does the congress member ensure they are hearing directly from students to understand college affordability issues?" —Ben, uAspire fellow, to congressional staffer
This year's Hill Week didn't involve traveling to D.C. or navigating the maze of the Capitol Building to find congressional offices. Instead, eight uAspire Student Advocacy Fellows found quiet places in their homes to log onto video conference calls to share their experiences affording non-tuition costs like transportation, food, housing, and course materials.
Last week, uAspire fellows virtually "walked the halls" to meet with 43 state and federal lawmakers, including the offices of Speaker Nancy Pelosi, Senator Bob Casey, Senator Ed Markey, Senator Jim Toomey, Congresswoman Ayanna Pressley, Congressman Kevin McCarthy, and the House Committee on Education and Labor. California Congressman Tony Cardenas attended via Zoom and Massachusetts Congressman Joe Kennedy video-called from his car.
Fellows explained that indirect expenses were prohibitive costs well before COVID-19 and made policy recommendations to reduce the financial burden on students and improve cost communication. Debbie, a Pennsylvania fellow, emphasized the need for "accurate estimates and effective communication. We need transparency." Ray, also a Pennsylvania fellow, called for "calculated costs of course materials to be included in billable fees and access to open-source educational resources."
After the week of meetings, Junie from Massachusetts said, "We learned elected officials want us to engage and tell them what they should be improving on. My biggest takeaway is that advocacy is very important, and we need to keep it going and even increase it on a greater basis."
COVID-19 exacerbates the challenges for students. Campus closures have forced students to secure alternate housing, travel home mid-semester, find new sources of food without access to campus food pantries, and buy technology for distance learning with campus libraries closed. However, indirect expenses were derailing college goals before the pandemic, and will continue to be a challenge for students in the fall and beyond.
Annabel from California shared that this advocacy fellowship "made me realize students everywhere are experiencing similar struggles and how policy can help address these challenges." Especially now, it is vital that students are at the forefront of informing the policies that impact them.
Thanks to the generous support of Lumina Foundation, uAspire Student Advocacy Fellows completed a 70-hour paid fellowship program to build advocacy skills and advance change.