Skip to main content
Blog
Spotlight: Emanuel Cabrera, EY
February 21, 2020
By uAspire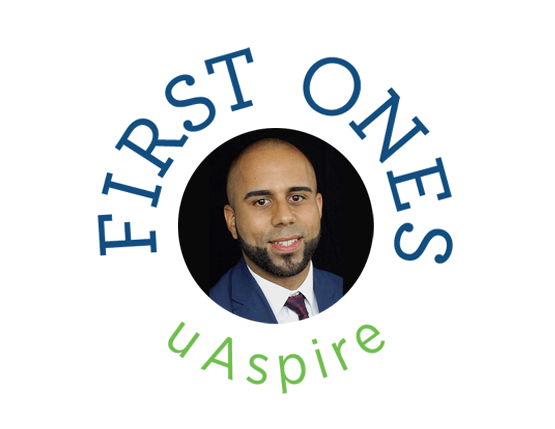 5 Questions for Massachusetts First Ones Rising Star Emanuel Cabrera, Snr Mgr Assurance Practice, EY
What does being a first-generation college graduate mean to you?
Being a first-generation college graduate has allowed me to appreciate my parents. As immigrants, they made sacrifices and worked to put me through school so that I could become successful. I admire their sacrifice of leaving their families in the Dominican Republic and coming to the United States as adults to create a better life for me. Achieving this milestone of graduating from college gives me hope that I can create an even better life for my future family.
What impact did going to college or earning a degree have on your life?
Going to college and earning my degree has allowed me to pursue my dreams in business. In high school, I always dreamed of either being an FBI agent or a successful CEO or CFO. With either career choice, I knew that I needed a higher education diploma. Being able to graduate from a top school in Boston, Boston College, introduced me to a great firm like EY and made it possible to pursue my childhood dream. When I graduated and became an auditor at EY, I thought of myself as the equivalent of an FBI agent in the business world. So, in a way, I got to combine my two childhood dreams!
Tell us about someone who made a difference in your life?
I have to give my parents all the credit for my success. My mother immigrated from the Dominican Republic at the age of 30 and two years later I was born. Right after I was born, she left my biological father due to domestic violence. She raised me as a single mother for a few years until meeting my stepfather. My stepfather raised me as his own son. He had rigorous rules growing up and education was a top priority for him. He worked hard and saved any money he could to go towards making sure I got a good education. The support from both of my parents growing up has shaped me to be the person I am now and I couldn't be any more grateful for that!
What do you love about your job?
What I love most about my job is the ability to grow and learn every year. At EY, every day we deal with new issues that the team is trying to solve. As I learn how to problem solve, I also have the opportunity to meet the most incredible people with enormous knowledge. Working with these people and creating a lifetime bond is what makes me get up every day and put in the long hours.
What advice do you have for a first-generation college student?
My first piece of advice for first-generation college students is to not give up and to continue building your dream. All of you have people who support and believe in you. You have made it this far with their support and your hard work. Keep pushing yourself to go the extra mile as the only direction to go from here is forward.

My second piece of advice is to be a lifelong learner. If you continue to learn, you continue to grow as an individual and reach higher milestones than you ever imagined.

My last advice would be to pay all that knowledge forward. Remember where you came from and remember that there are other individuals behind you who also need resources to move up in the world and those resources include you!