Skip to main content
Blog
Spotlight: Cynthia Rivera Weissblum, Edwin Gould Foundation
February 13, 2020
By uAspire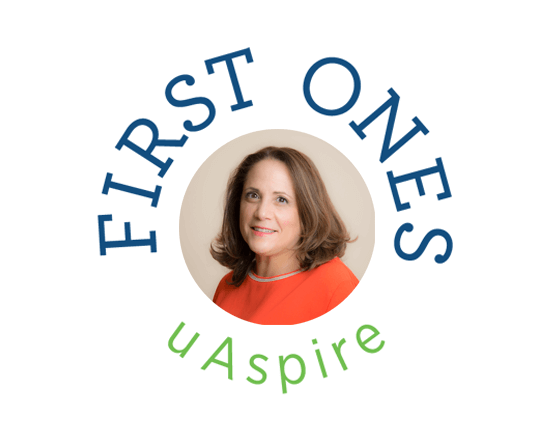 5 Questions for New York First Ones Honoree Cynthia Rivera Weissblum, President & CEO, Edwin Gould Foundation
What does being a first-generation college graduate mean to you?
What first comes to mind is my daughter. She is 31 and recently earned her Ph. D. Every time I think about this, my feelings and my thoughts are the same. Such enormous pride, pride in how she set herself on a path and never wavered. I am so moved by the fact that she has earned a Ph. D—she is the first in our family. She has lifted up our tribe.
I felt the same sense of pride when my son studied religion, theology and philosophy. As every generation advances, they evolve—better and better. They advance the family and the community. It is an ever-evolving process--intellectually advancing. I have great hopes for my children and children's children. They are adept at multidimensional thinking, they ponder, they are fearless and are creating a world that will become the one they see in their mind's eye.
I may be a first-generation college graduate, but it was my parents who were the first. The first to immigrate and then deported but nonetheless, they kept coming back. The first to come to New York City at 16 years old after losing both their parents. The first, with only a third grade education, to start a business and move their family from the working poor to the solid middle class. The first to live the American Dream.
I am honored to have moved the needle a little, but it was my parents who made the grand leap without a safety net and with that, propelled our family forward—fearlessly forward. I have stood on the shoulders of my parents, and my children on mine and so it will continue.
What impact did going to college or earning a degree have on your life?
As I look back, attending a state college far from home was the tipping point in my life. While my sisters and some of my cousins all attended 2-year and 4-year local colleges, I was given an advantage by birth order. I was the youngest of many cousins ranging in ages that spanned almost forty years. This advantage was bestowed upon me by fate.
Unlike my sisters and my cousins, I didn't live at home and work full-time while going to college. I was lucky, I got to live on campus and wasn't as distracted by the daily complexities of living and working at home. Attending the State University at Albany placed so many opportunities in my path, work opportunities, studying abroad, positions in residential life and student affairs, and a fully-funded master's degree.
Tell us about someone who made a difference in your life?
I was able to go away to school because my sisters insisted. They would not have had it any other way. They made sure it was easier for me than it was for them. I owe it all to them.
What do you love about your job?
In 2007, I joined the Edwin Gould Foundation as CEO and with a great board and team created something pretty special, The EGF Accelerator, a long-term residential incubator for nonprofit organizations addressing inequity in education. We welcome leaders and organizations into our offices, and into our minds and hearts, for five years. During those years we fund, support, guide, inspire, troubleshoot and dedicate all our resources to helping these leaders and organizations thrive. I consider myself incredibly fortunate to lead the EGF Accelerator.
What advice do you have for a first-generation college student?
I practice active listening often, and it is not easy. I deeply believe that listening to others, reducing the chatter in the universe and connecting to your own thoughts and ideas is an art that develops over time and with practice. I also believe that we must practice not having fear. It is also not easy. Reducing fear and self-doubt takes a high level of awareness and practice. I do believe that these are habits and habits of mind that free us from self-imposed limits and allow us to learn, explore, and create without boundaries.