Skip to main content
Blog
Opportunities & Challenges of Universal FAFSA
April 27, 2023
By Mireya Sandoval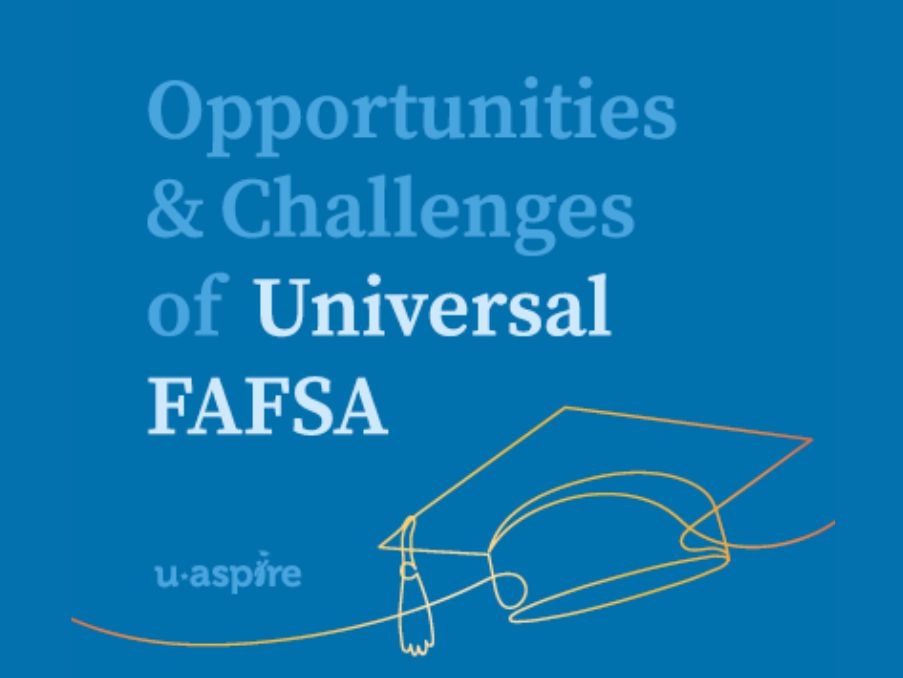 uAspire's brief, Opportunities and Challenges of Universal FAFSA, looks at states' universal FAFSA policies, what's working, what's not, and how to better implement them.
Students who complete the Free Application for Federal Student Aid (FAFSA) by the end of their senior year are 84% more likely to enroll in college. But last year, eligible students who didn't complete the FAFSA left $3.58 billion on the table in Pell grants. By adopting a "universal" FAFSA completion policy — making the financial aid form a requirement for graduation and supporting students through the process — states can help ensure students access financial aid and postsecondary opportunities.
The evidence clearly shows that these policies result in increased FAFSA completion rates. To better understand the full impact of universal FAFSA, we surveyed and interviewed practitioners from the five states implementing a policy — Alabama, California, Illinois, Louisiana, and Texas. Our new brief identifies the opportunities created for students, the challenges of implementation, and best practices to inform states seeking to adopt an equitable and effective universal FAFSA policy. Our research was funded by the Bill & Melinda Gates Foundation.
These policies are an important opportunity, but school leaders must be prepared to coordinate efforts across their school, district, and community, and counselors must be equipped with support and resources to assist students and families. Through this research we aim to advance universal FAFSA implementation that prioritizes the needs of students from lower-income communities, students of color, and undocumented or nonresident students who are most likely to face structural barriers to completing their financial aid applications.