Skip to main content
Blog
Lawmakers and uAspire Gather at MA State House to Address College Affordability
October 4, 2019
By Jason B. Johnson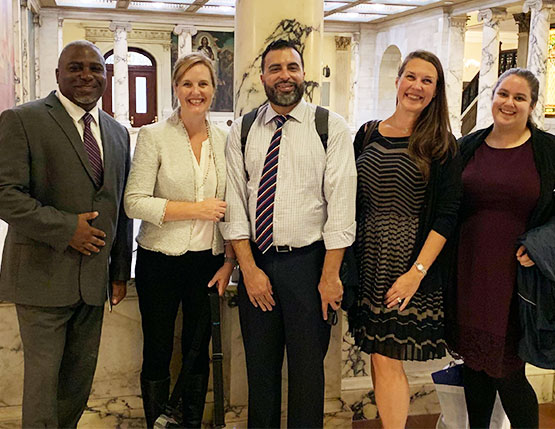 For Immediate Release
October 4, 2019

Media Contact:
Jason B. Johnson, Communications Director
Phone: (781) 971-1461
Email: jasonj@uaspire.org

uAspire shares findings and recommendations from the research report, Decoding the Cost of College, with legislators and staff

BOSTON — State Reps. Sean Garballey (D-Arlington) and Natalie Higgins (D-Leominster), the Massachusetts Public Higher Education Caucus, and uAspire, a national nonprofit whose mission is to ensure that all young people have the financial information and resources necessary to find an affordable path to and through college, held an informational briefing with legislators and staff Wednesday to address the challenge of making a college degree an affordable reality for students. Over 40 people gathered in the historic State House Member's Lounge for the presentation, including State Representatives Stephen Hay (D-Fitchburg) and Aaron Vega (D-Holyoke), as well as staff from the Massachusetts Budget and Policy Center, the Department of Higher Education, Senator Elizabeth Warren's office, and several colleges and universities.

"Financial aid offers can be confusing and a real barrier for students and families," said Arlington Rep. Sean Garballey. "That is why we invited uAspire to share their critical expertise with our members and staff."

College affordability is a key issue affecting Massachusetts students, families, and the broader economy. The briefing highlighted the link between the complexity of financial aid information, consumer protection and debt reduction, and the goal of ensuring that Massachusetts' students are not saddled with crushing debt. Speakers discussed how growing student debt will hinder future economic growth in the state, and delay students' ability to achieve life milestones such as buying their first car, getting married, and even buying their first home.

"I am a first-generation student, a proud graduate of UMass Amherst," said Rep. Natalie Higgins, who went on to earn a law degree from Northeastern University School of Law. "In regard to improving affordability and simplicity, we still have a long way to go."

Roughly 855,000 college students and graduates in Massachusetts owe over $30 billion in student loans. The average student debt at graduation in 2018 was $31,882 for a borrower in Massachusetts. National student loan debt has topped $1.6 trillion and it is estimated that by 2023, about 40 percent of student borrowers may default. At the briefing, advocates for improving college affordability commented that Massachusetts has been a leader in pushing for reform, and must continue such efforts to address the student loan crisis. Massachusetts is one of 13 states where lawmakers this year have proposed ombudsman bills or other legislation to provide consumer protections to student loan borrowers.

The briefing started in a unique way with an experiential lesson led by Holly Morrow, uAspire's senior vice president of knowledge. Morrow shared two actual Massachusetts aid offers with the group along with uAspire's analyzer tool to simulate the experience of students and families trying to figure out how much each college would cost.

Betsy Mayotte, Founder and President of The Institute of Student Loan Advisors (TISLA) , connected unclear aid offers to growing student loan debt. Mayotte shared stories of Massachusetts residents struggling to pay off their seemingly insurmountable student loan debt, "One client makes $1,700 a month, but she has to pay $700 (monthly). She's worried that she'll never be able to save up for a car or house," said Mayotte.

uAspire Chief Policy Officer Laura Keane provided an overview of the findings from uAspire and New America's report on the confusing financial aid offers students receive after being accepted to college. The report, Decoding the Cost of College: The Case for Transparent Award Letters, offers a quantitative review of over 11,000 aid offers, and a deep, qualitative analysis of 515 aid offers received by Pell-eligible students nationwide.

"The truth is that the financial gaps persist for students from low-income backgrounds, regardless of the decisions they make to cut costs, whether it be living at home or attending a public 4-year institution. Even after taking out maximum federal student loans, they are still left with an average gap of almost $12,000 (per year) that isn't covered by financial aid," said Keane.

Keane noted that more than one-third of the aid offers reviewed were missing the price tag. They did not include any information about the cost of attendance, only the amount of aid offered was listed. Researchers also found rampant inconsistent terminology, such as 136 different names for the Federal Direct Unsubsidized Loan, 24 of which did not include the word "loan."

Attorney General Maura Healey's senior policy advisor, Gabrielle Viato spoke about her office's collaboration with uAspire on a related public awareness campaign to address student debt earlier at the decision points. Viator raised concerns about the lack of consistency in terminology and financial information provided to prospective students: "The real problem is that they are not able to make apples-apples comparisons."

Viator also noted that Attorney General Healey's office was the first in the nation to create a student loan assistance unit, adding that a common refrain from constituents is "I wish I knew what I was getting myself into at the outset."

Elsa Martinez-Pimentel, uAspire's Massachusetts regional director, closed the program with a passionate plea to lawmakers and staff in attendance: "Massachusetts is known for having the best schools. We should lead the country in offering students the best aid offers, so they can make the financially-informed decision they deserve. We should be leading the conversation. Our students can't afford to wait."

STUDENT LOAN DEBT IN MASSACHUSETTS:
In Massachusetts, students carry a debt load of $32.5 billion, including $2.46 billion for those living in Boston.
In Massachusetts, the $32.5 billion in outstanding debt is nearly twice the 2008 figure of $17.3 billion.
Massachusetts ranks 8th in the nation for highest average student loan debt per borrower - $31,939.
Brookline, MA, ranks 8th on the list of 500 U.S. cities with the highest average student loan debt ($49,844).

###

About uAspire
Founded in Boston in 1985, uAspire has evolved into a national leader on the issue of college affordability, advising thousands of students to access financial aid and manage college costs, training counselors to do the same, and advocating for student-centered policy and systems change. For more information, please visit www.uaspire.org.