Skip to main content
Blog
First Ones Honorees
March 1, 2022
By uAspire
Since 2010, the First Ones have celebrated leaders who are first in their family to graduate college.
uAspire is enormously grateful to our past honorees for sharing their powerful stories which demonstrate the transformative power of higher education and underscore the need for college to be affordable for all.
2021 - 2022 Honorees
M. Lee Pelton, The Boston Foundation
Layla Ramirez, Justworks
Marc Stad, Dragoneer Investment Group
2020 - 2021 Honorees
Emanuel Cabrera, EY
Val DiFebo, Deutsch NY
Betty Francisco, Boston Impact Initiative
Bob Gianninno, United Way of Massachusetts Bay & Merrimack Valley
Simone Okafor, Melanated Futures Group
Cynthia Rivera Weissblum, Edwin Gould Foundation
Gabe Santos, Homestead Capital
Greg Shell, Bain Capital
Marvin Valdez, American Express
2019 Honorees
Chris Barr, Takeda
Laura Cordero, WSP USA
Jennifer Gamez, Columbia University Hospital
Quincy Miller, Eastern Bank
Julissa Reynoso, U.S. Ambassador to Spain
James Valentini, Columbia University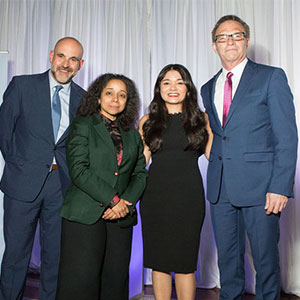 2018 Honorees
Sheryl Davis, San Francisco Human Rights Commission
Gib Lopez, PayJoy
Dr. Bert Lubin , Former CEO, UCSF Benioff Children's Hospital
Jay Paez, Net Lease Capital Advisors
Jody Rose, New England Venture Capital Association
Corey Thomas, Rapid7
2017 Honorees
Mohamad Ali, IDG, Inc.
May Bumar, Liberty Mutual Investments
Marty Meehan, University of Massachusetts
2016 Honorees
Pamela Eddinger, Bunker Hill Community College
Stanislas Phanord, U.S. Department of State
Michael Scannell, Clergy Trust
Richard Carranza, IXL Learning
Lenny Mendonca, McKinsey & Company
Hector Preciado, LAWCLERK, Crave It, Human Capital Strategies

2015 Honorees
Carol Fulp, Fulp Diversity, LLC
Rich Holbrook, Eastern Bank
Jose Hernandez, Pt Strategies, LLC
Tierra Luna, Engineering, LLC
Nancy Lue, Valhalla Foundation
Lisa Villarreal, Safe & Sound, Partnership for Children and Youth, National Equity Project
2014 Honorees
Jack Connors, Stripe
Nick Fyntrilakis, Massachusetts Association of Insurance Agents
Dr. Paula Johnson, Intercultural Development Research Association
Waleska Lugo-DeJesus, Inclusive Strategies, LLC
Former Mayor Thomas Menino, Boston, Massachusetts
2013 Honorees
Erica Brown, Massachusetts Charter Public School Association
Wayne Budd, Goodwin Procter, LLC
Magnolia Contreras, Dana-Farber Cancer Institute
Bob Karam, Karam Financial Group
Victor Lee, Advantage Unified Commerce
Governor Deval Patrick, Harvard Kennedy School Center for Public Leadership, Bain Capital

2012 Honorees
Steven Bradley, The Bradley Group
Senator Gale Candaras, Commonwealth of Massachusetts
Heriberto Flores, New England Farmworkers Council
Kathy LeMay, Raising Change
Christy Torres, MCR Property Management
Luis Yepez, Mainstream Global, Inc.
2011 Honorees
Susanne Cameron, JPMorgan Chase & Co.
William "Mo" Cowan, Devoted Health
Neal Finnegan, Clover Capital and Consulting
Tiffany Cooper Gueye, Blue Meridian Partners, Inc, Center for Effective Philanthropy
Dr. Alan Ingram, National Council for Community and Education Partnerships
Dr. Carol Leary, Bay Path University
Rev. Dr. Michael Paul Melendez, Episcopal Diocese of Massachusetts, Salem State University School of Social Work, Simmons College School of Social Work
James Morton, YMCA of Greater Boston
Carmen Ortiz, Anderson & Kreiger
Mayor Domenic Sarno, City of Springfield
Leonard Schlesinger, Harvard Business School

2010 Honorees
Isabel Garcia El Estudio, Rebecca Haag Island Grown Initiative
Representative Kevin Honan, Commonwealth of Massachusetts
Alicia Mooltrey, Charlestown High School, Jeremiah E Burke High School, Radical Joy Inc.
Dolores Ortiz, Brigham and Women's Hospital
Regina Pisa, Goodwin Procter LLP